Sanstorm was born
Sanstorm was born in 1941 when F.H. Roselle patented his creation, the Abrasive Blasting Machine.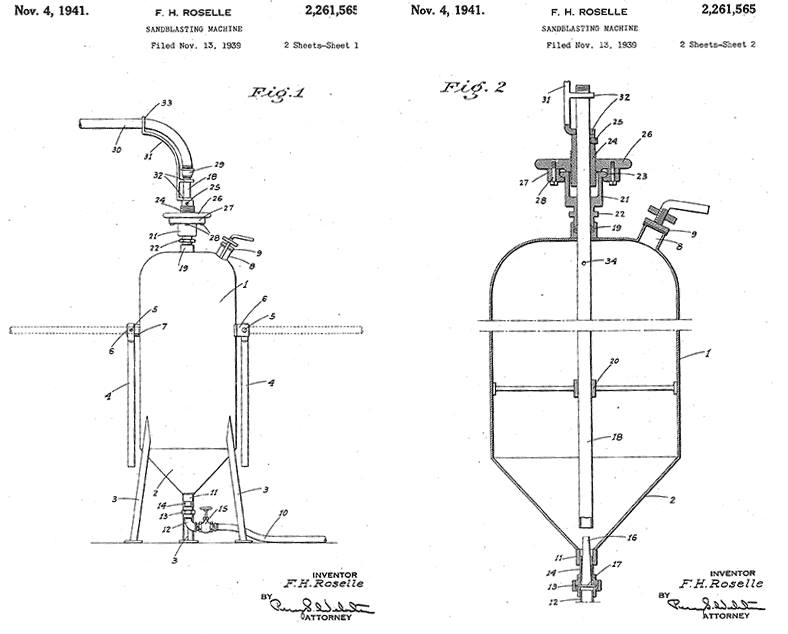 More patents
The company had formed in Fresno, California as Myers Welding & Fabrication. In that same year, Bill Myers received a patent for the critical piece of the sandblasting technology — the control valve — and from there, the company took off!
Bill Myers received yet another patent on the wet head adapter in 1955.
Moved to Houston, TX
The company grew and moved to Houston, Texas, where the company and manufacturing remain to this day.

Air Liquide
Air Liquide purchased Sanstorm and Bowen Tools.


MMLJ purchases Sanstorm
Sanstorm was purchased by MMLJ, who was focusing on other developments, SodaBlasting. SodaBlast Systems was launched while Sanstorm customers were supported.

R&D begins
Development, prototyping, and testing begins on Dustless Blasting® equipment. This new wet abrasive blasting system is faster than traditional sandblasting, uses less media, and suppresses the plume of dust.
Manufacturing begins
MMLJ begins manufacturing Dustless Blasting® equipment.
First use in commerce
Dustless Blasting® equipment is first used in commerce, with patent pending.
Patent is received
MMLJ receives patent for Dustless Blasting® equipment.
Support Systems
MMLJ launches the Dustless Blasting® Online Store, and the Dustless Blasting® Academy to further support their customers.